Good times in Chaos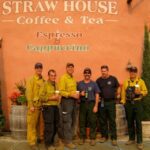 2008 Iron Complex fires
Coffee with a smile and outrageous Tri-Tip sandos !!
Erik Schroth
Central Marin FD
Great Coffee with Great Service
I started enjoying Strawhouse coffee in mid 2000 as I traveled, back and forth, from Redding to Eureka and Fortuna to work on Radiology Equipment. The coffee was always fresh and perfectly roasted to give the best taste. Even thought I have been back in Idaho for ten years, I still enjoy this coffee. I even have six travel mugs from Strawhouse Coffee that get used quite often. They are at the 20 year mark, a wee bit worn, but still work in keeping my travel brew nice and hot. I recommend Strawhouse to anyone that really enjoys a good cup of coffee.
Ken Swickard
Roasted carefully with a lot of love!
They have the best small batch coffee bean roasts. You can taste how it was roasted carefully with a lot of love!"
Wilfred Kong
Leave a Review